Five Time Super Bowl Champs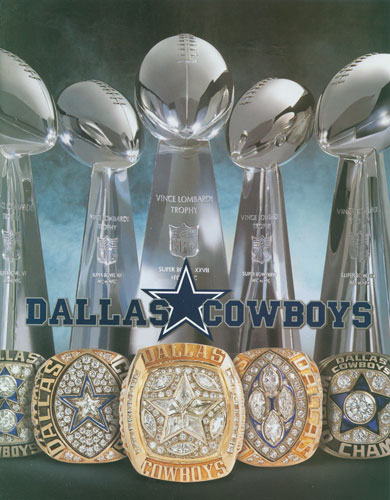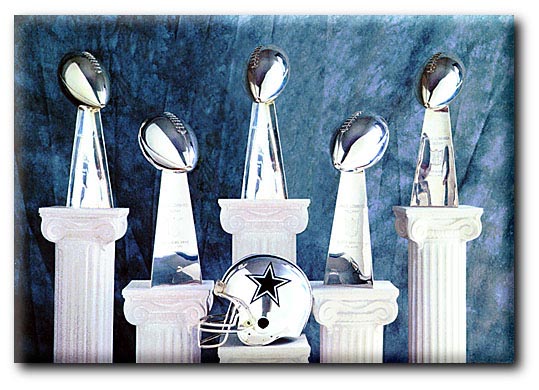 ---
The Cowboys are only one of three teams to ever win 5 Superbowls! The Cowboys have been to the most Superbowls and Playoff games of any NFL team . We were the first team to win three Superbowls in four years. The Cowboys won the Superbowl in 1972, 1978, 1993, 1994, and 1996.
---


5th Super Bowl Win
Superbowl 30-January 28, 1996
Sun Devil Stadium, Tempe, Arizona
Dallas Cowboys defeat Pittsburgh Steelers 27-17
MVP-CB Larry Brown

Cornerback Larry Brown's two interceptions led to 14 second-half points and helped lift the Cowboys to their third Super Bowl victory in the last four seasons and their record-tying fifth title overall. Brown's interceptions foiled the comeback efforts of the Steelers, and earned him the Pete Rozelle Trophy as the game's most valuable player. Dallas scored on each of its first three possessions, taking a 13-0 lead on Troy Aikman's 3-yard touchdown pass to Jay Novacek and a pair of field goals by Chris Boniol. Neil O'Donnell's 6-yard touchdown pass to Yancey Thigpen 13 seconds before halftime pulled Pittsburgh within 6 points, and the Steelers had the ball near midfield midway through the third quarter. But O'Donnell's third-down pass was intercepted by Brown at the Cowboys' 38-yard line, and his 44-yard return carried to Pittsburgh's 18. After Aikman's 17-yard completion to Michael Irvin, Emmitt Smith ran one yard for the touchdown that put Dallas ahead again by 13 points. The Steelers rallied, though, behind Norm Johnson's 46-yard field goal, a successful surprise onside kick, and Byron (Bam) Morris's 1-yard touchdown run with 6:36 to play in the game. And when they forced a punt and took possession at their own 32-yard line trailing only 20-17 with 4:15 remaining, it appeared they might have a chance to break the NFC's recent domination in the Super Bowl. But on second down, Brown struck again, intercepting O'Donnell's pass at the 39 and returning it 33 yards to the six. Two plays later, Smith barreled over from four yards out for the clinching touchdown with 3:43 to go. Pittsburgh limited the Cowboys' powerful running game to only 56 yards and enjoyed a whopping 201-61 advantage in total yards in the second half, but could not overcome the three interceptions (another came on the game's final play) thrown by O'Donnell, the NFL's career leader for fewest interceptions per pass attempt. In all, O'Donnell completed 28 of 49 passes for 239 yards. Morris rushed for a game-high 73 yards on 19 carries. For Dallas, Aikman completed 15 of 23 pass attempts for 209 yards. The Cowboys' victory was the twelfth in a row for NFC teams over AFC teams in the Super Bowl.
---


4th Super Bowl Win
Superbowl 28-January 30, 1994
Georgia Dome, Atlanta, Georgia
Dallas Cowboys defeat Buffalo Bills 30-13
MVP-RB Emmitt Smith

Emmitt Smith rushed for 132 yards and two second-half touchdowns to power the Cowboys to their second consecutive NFL title. By winning, Dallas joined San Francisco and Pittsburgh as the only franchises with four Super Bowl victories. The Bills, meanwhile, extended a dubious string by losing in the Super Bowl for the fourth consecutive year. To win, the Cowboys had to rally from a 13-6 halftime deficit. Buffalo had forged its lead on Thurman Thomas's 4-yard touchdown run and a pair of field goals by Steve Christie, including a 54-yard kick, the longest in Super Bowl history. But just 55 seconds into the second half, Thomas was stripped of the ball by Dallas defensive tackle Leon Lett. Safety James Washington recovered and weaved his way 46 yards for a touchdown to tie the game at 13-13. After forcing the Bills to punt, the Cowboys began their next possession on their 36-yard line and Smith, the game's most valuable player, took over. He carried seven times for 61 yards on the ensuing 8-play, 64-yard drive, capping the march with a 15-yard touchdown run to give Dallas the lead for good with 8:42 remaining in the third quarter. Early in the fourth quarter, Washington intercepted Jim Kelly's pass and returned it 12 yards to Buffalo's 34. A penalty moved the ball back to the 39, but Smith carried twice for 10 yards and caught a screen pass for nine, and quarterback Troy Aikman completed a 16-yard pass to Alvin Harper to give the Cowboys a first-and-goal at the 6. Smith took it from there, cracking the end zone on fourth-and-goal from the 1 to put Dallas ahead 27-13 with 9:50 remaining. Eddie Murray's third field goal, from 20 yards with 2:50 left, ended any doubt about the game's outcome. Smith had 30 carries in all, with 19 of his attempts and 92 yards coming after intermission. Washington, normally a reserve who played most of the game because the Cowboys used five defensive backs to combat the Bills' No-Huddle offense, had 11 tackles and forced another fumble by Thomas in the first quarter. Aikman completed 19 of 27 passes for 207 yards. Buffalo's Kelly completed a Super Bowl-record 31 passes in 50 attempts for 260 yards Dallas, the first team in NFL history to begin the regular season 0-2 and go on to win the Super Bowl, also became the fifth to win back-to-back titles, following Green Bay, Miami, Pittsburgh (the Steelers did it twice), and San Francisco. Buffalo became the third team, along with Minnesota and Denver, to lose four Super Bowls. The Cowboys' victory was the tenth in succession for the NFC over the AFC.
---


3rd Super Bowl Win
Superbowl 27-January 31, 1993
Rose Bowl, Pasadena, California
Dallas Cowboys defeat Buffalo Bills 52-17
MVP-QB Troy Aikman

Troy Aikman passed for four touchdowns, Emmitt Smith rushed for 108 yards, and the Cowboys converted nine turnovers into 35 points while coasting to the victory. Dallas's win was its third in its record sixth Super Bowl appearance; the Bills became the first team to drop three in succession. Buffalo led 7-0 until the first two of its record number of turnovers helped the Cowboys take the lead for good late in the opening quarter. First, Dallas safety James Washington intercepted Jim Kelly's pass and returned it 13 yards to the Bills' 47, setting up Aikman's 23-yard touchdown pass to tight end Jay Novacek with 1:36 remaining in the period. On the next play from scrimmage, Kelly was sacked by Charles Haley and fumbled at the Bills' 2-yard line where the Cowboys' Jimmie Jones picked up the loose ball and ran two yards for a touchdown. Dallas, which recovered five fumbles and intercepted four passes, struck just as quickly late in the first half, when Aikman tossed 19- and 18-yard touchdown passes to Michael Irvin 18 seconds apart to give the Cowboys a 28-10 lead at intermission. The second score was set up when Bills running back Thurman Thomas lost a fumble at his 19-yard line. Buffalo scored for the last time when backup quarterback Frank Reich, playing because Kelly was injured while attempting to pass midway through the second quarter, threw a 40-yard touchdown pass to Don Beebe on the final play of the third period to trim the deficit to 31-17. But Dallas put the game out of reach by scoring three times in a span of 2:33 of the fourth quarter. Aikman, the game's most valuable player, completed 22 of 30 passes for 273 yards. The victory was the ninth in succession for the NFC over the AFC.
---


2nd Super Bowl Win
Superbowl 12-January 15, 1978
Superdome, New Orleans, Louisiana
Dallas Cowboys defeat Denver Broncos 27-10
MVP-DT Randy White, DE Harvey Martin

The Cowboys evened their Super Bowl record at 2-2 by defeating Denver before a sellout crowd of 75,583, plus 102,010,000 television viewers, the largest audience ever to watch a sporting event. Dallas converted two interceptions into 10 points and Efren Herrera added a 35-yard field goal for a 13-0 halftime advantage. In the third period Craig Morton engineered a drive to the Cowboys' 30 and Jim Turner's 47-yard field goal made the score 13-3. After an exchange of punts, Butch Johnson made a spectacular diving catch in the end zone to complete a 45-yard pass from Roger Staubach and put the Cowboys ahead 20-3. Following Rick Upchurch's 67-yard kickoff return, Norris Weese guided the Broncos to a touchdown to cut the Dallas lead to 20-10. Dallas clinched the victory when running back Robert Newhouse tossed a 29-yard touchdown pass to Golden Richards with 7:04 remaining in the game. It was the first pass thrown by Newhouse since 1975. Harvey Martin and Randy White, who were named co-most valuable players, led the Cowboys' defense, which recovered four fumbles and intercepted four passes.
---


1st Super Bowl Win
Superbowl 6-January 16, 1972
Tulane Stadium, New Orleans, Louisiana
Dallas Cowboys defeat Miami Dolphins 24-3
MVP-QB Roger Staubach

The Cowboys rushed for a record 252 yards and their defense limited the Dolphins to a low of 185 yards while not permitting a touchdown for the first time in Super Bowl history. Dallas converted Chuck Howley's recovery of Larry Csonka's first fumble of the season into a 3-0 advantage and led at halftime 10-3. After Dallas received the second-half kickoff, Duane Thomas led a 71-yard march in eight plays for a 17-3 margin. Howley intercepted Bob Griese's pass at the 50 and returned it to the Miami 9 early in the fourth period, and three plays later Roger Staubach passed 7 yards to Mike Ditka for the final touchdown. Thomas rushed for 95 yards and Walt Garrison gained 74. Staubach, voted the game's most valuable player, completed 12 of 19 passes for 119 yards and two touchdowns.
---

View My Guestbook
Sign My Guestbook
This Webpage was last Updated on: 1-11-08